Wednesday, December 12, 2007
About Me
Name: Ann
Location: United States
I write erotic romance comedy. But wait, that's not all...
Read the first chapter of my books in the Excerpts section!
Bookshelf: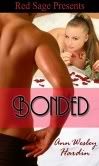 A Lick and A Promise
Naughty gifts and apparel designed exclusively for erotic romance fans. Life is short, put out!
All A-Twitter!:
,,
Lijit Search
Subscribe in a reader
Previous Posts
Blogroll Me!